Tender Tracks Tues. Day 43
March 7, 2017
Waxing Gibbous Moon
Sorich Ranch
Isabella, Ruby absent and Jesse is back.
FYI: Edie now mostly comes on Tues. and Kai comes on Thursdays. All for personal family and school needs. So if you don't hear about them in the journals it is because of this schedule.
The Sun and clouds continued to play their game of Hide and Go Seek through out the day with warmth and cold warmth and cold as they have been doing for a while.
We went to Sorich Ranch one, because we weren't sure if the roads were open yet to get to Roy's Redwoods due to more mudslides and two because it is far sunnier.
They were all happy to see Jesse after his grand trip to Mexico and Jesse was very happy to see everyone too!  When they got in the bus they all sat on one side.  Jake at first didn't want to sit next to Archer.  I asked if there was something he wanted or didn't want from Archer. He said he didn't want Archer to kick him.  He then told Archer this and Archer said, quite happily, "I won't kick you" and then they were fine.
Edie was the Lovie (stuffed animal) helper today and really enjoyed that.  All but Jesse wanted one of our little soft blankets for their stuffies and they were happy and content. Then, off we went to Sorich where we met Michelle.
When we got there they all got out and went to the big rock. Edie stayed to help me. We took many things and set up our belongings near on the picnic table under the Redwoods.
I took out the grain grinder and we all figured out how to set up. I took out the big hard purple corn and we tried to grind it but, it didn't really work.
Michelle came, we had circle and we ate some of the YUMMY banana bread that Minna brought. When it was in the bus while we were driving the bus smelled SOOOO good!!! We sang some songs, Michelle read a beautiful book, we ate and then we went to the table. I brought out wheat kernels and the children were all able to grind this grain very well. And, we all felt very satisfied from being able to have this little grinder work.
The stove came out, tea pot put on, water boiled and then poured on the Masa flour. Michelle made corn tortillas with butter while the children gathered and washed , chickweed, sour grass and miners lettuce. This then was put on top of some of their tortillas and they ate up. It was actually then lunch so they continued to eat and finish their lunch.
Seeing them all have such fun working together harvesting and eating the plant materials growing abundantly around us was pure beauty.
After lunch we put everything away, left their packs there and walked to the farm just down the road. There they picked more wild plants to feed the chickens and the roosters.  Jesse spent a lot of time with his ears covered because he really did not like the sound of the loud Rooster. The chickens however gave the sweetest and most gentle songs as they ate.
There was the plant called Filaree there. I made little play scissors from it.
Then they carefully picked some Calendula flowers to bring home to Mom's.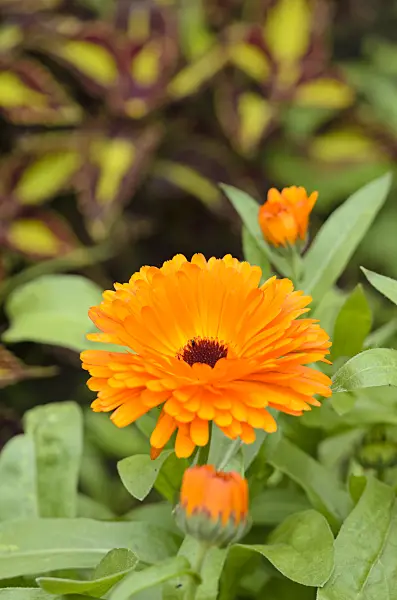 There was a man clearing up old debri and Jake wanted to help him.  Another man came by and gave us a can of chicken feed. The children scattered that around for the chickens and then we made our way back to the bus.
I started to play a game with Jesse, Archer and Kuba where they face away from me/or someone. The person to whom their back is faced walks as quietly as possible towards them with the goal of touching them without being heard. They really liked this game. We had to keep up with the others but they really wanted to play it so we will do more of that. They are very ready now.
They played a little more on the big rock as well as colored a bit in their Nature Books and laid on the grass looking up at the sky before we pilled into the bus and made our way back.
A beautiful and peaceful day.
https://tendertracks.com/wp-content/uploads/2016/03/logotype-ladybug-transparent2.png
0
0
Wendolyn
https://tendertracks.com/wp-content/uploads/2016/03/logotype-ladybug-transparent2.png
Wendolyn
2017-03-13 12:57:57
2019-01-05 21:10:37
Tender Tracks Tues. Day 43