Palo Alto Tender Tracks Day 47 & Day 48 March 26 & 28, 2012
Waxing Crescent Moon
Foothill Park, backside & Hidden Villa
I am putting these two days together due to the social issues that arose on Tuesday and how beautiful resolution came about on Thursday.  Tuesday social struggles seemed so unpleasant from an outsiders viewing.  If I didn't know all about child development as well as having some degree of knowledge as to how to facilitate supportive change,  it would have been a very upsetting day to witness. However, understanding these things that they are going through as great and profound learning moments, this week was wonderful with it's social growth.  And in truth, so much growth took place due to the love and skill you parents have showered your children with.  Their responses were a testament to this.  So here we go.  I, as always never am able to describe in detail all the tiny yet large and profound things that take place yet I share pieces.  May you get the gist and the joy of it all here.
Tuesdays day began with going to the garden and finding the Ceanothus tree there in full bloom with flowers that one can wash ones hands with.  I heated up some water first on our stove and then we went to find this great tree. There they took little cups that were given to them and they gathered and gathered as we sang little personal songs of thank you while picking these beautiful purple/blue floweres.  Below is a description and image of this lovely plant.  You can find the bushes around town as well and they too can be used to wash your hands with.
Ceanothus thyrsiflorus – 'Repens' (Californian Lilac)
Type
Shrub (Multi-stemmed Plant), Evergreen, Ground cover, Flowering
Form
Low Growing or Spreading Plant, Architectural Form
Size
Low Border / Edging / Ground Cover Plant (up to 50cm height)
Colours
Dark blue Flowers (Summer), Medium green Foliage
Care
Low/Easy Maintenance – Tough Plant
Hardiness
Frost hardy, Drought Tolerant, Seaside Friendly
Growth
Fast Growing Plant
Earmark this plant

Ceanothus thyrsiflorus description: This spreading low growing evergreen shrub makes great ground cover for a south facing dry location. Blue flowers are borne in profusion throughout late spring / early summer on an attractive carpet of waxy dark green foliage. 1m tall with a spread 2m – 3m.Ceanothus thyrsiflorus cultivation notes: Ceanothus will tolerate a wide range of soil types as long as they are well drained. For best results plant in a warm sheltered spot full sun and make best use of this tough plant by using it in hot dry problem spots where it will flourish in the poorest of soils. Ceanothus do not appreciate the cold or shade. Prune lightly to shape in early Spring.
Plant Strengths: Sun loving drought tolerant plant; All round tough plant suitable for problem areas; Evergreen foliage for all year round colour and screening; Architectural plant – ideal as a 'stand out' plant; Suitable for exposed coastal planting; Attractive form or foliage for all year interest; Tolerates full sun and sandy, drought-prone soils.Plant Weaknesses: Invasive top growth.
Design & Plant Use for Ceanothus thyrsiflorus:
Evergreen ground cover suitable for problematic dry soils in full sun
Common Missspellings: Seanothus, Canothus, Seeanofus, Ceanofus, Ceanophus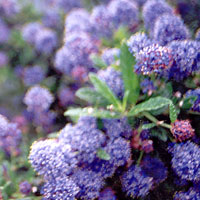 When we went back to circle they each got water in their cup and after I showed them how to do it, they took the plant and began to rub and rub until the lather showed up.  For some it took a little more figuring out how to do this and for others the suds came straight away.  After that they rinsed their hands in the warm pot of water and dried them up leaving their hands soft and refreshed.   We then sang our songs, received snack and were read the first half of the story The County Bunny and the Little Gold Shoes.  This is a story that I read almost every year at this time.  You can find it in the library.  One of the reasons I love it so is that it talks a great deal, in story language and metaphor, of working together as a team to make the whole work well.  This is the perfect time for such a story in the lives of four and five year olds.
After the first half of the story and snack, we cleaned up, then played for a bit and off we went to the backside of Foothill park due to the looming dark sky and potential for rain.  Today was the day to finish our rattles, rain or shine, so we needed to be somewhere where the rattles could stay a bit dry while we worked.  The winds were picking up quite strongly too as we left Eleanor and I thought we might need to work  inside the Rangers station as some of the children were feeling quite cold.  I did not want a strong chill to enter any of them.  But, the wind never really came back so we were able to stay at our lovely Redwood Tree world the entire rest of the day.
I pretty much straight away set up the rattle work area and they all went about their work of play.  Now, within that play came a not so unusual scenario  and it went something like this.  (Actually it began at circle, or, more precisely, throughout the year yet gaining momentum now as they develop.) In circle Jasper, Bodie and Giulio said that they were a team and they did not want Kashi to be apart of it.  Well, at Tender Tracks there is great support for your own dislikes and likes and great support that respectful words be had.  There is always some deeper truth to when children say, "I don't like you" or " I don't want to play with you". " So there's something you don't like?" might be asked.  In this case there was a very clear answer for Jasper and one that Bodie agreed upon.  They did not like Kashi's runny nose and how he would touch it with his fingers.  Ah, such clarity and now Kashi could do something about this.  Jasper seemed to be happily surprised when I gave him such support for sharing what was true for him to Kashi!  And I meant it!  How great to be able to give such clarity and then the other has something far more tangable to work with. Also, it is not the inherent nature of the person that is being rejected but something that can be corrected.
A relief in the group was felt.  HOWEVER, sharing ones discomforts with Kashi was prevelant throughout the day. Last week it was Paul.  So, during the day all the boys were going after Kashi in their war like game and the end result was that I got a stick to my nose and blood drawn.  Well, this was truly a show stopper.  It is very rare that I make strong statements with a strong voice but today was the day.   They were all stopped in their tracks and the game ceased immediately.  Oh, I am not unkind, only very, very clear about what is acceptable in a group and what is not.  I can see Bodie coming out of the bushes with long stick in hand and coming to a dead stop.  He got it and never went back to the game.  Later on though Jasper and Giulio got Kashi stuck in between them and were playing happily with trying to get Kashi.  Kashi, as you can imagine was not liking this.  That too was clearly stopped and Giulio and Jasper were sent to clean the bus.  Well, they were delighted with that.  How is this helpful you might ask? Because the point is not to punish, shame, or be angry at but rather to give other possibilities of what to do with certain energy and feeling states.  They were redirected as well as told what is acceptable and not acceptable. They appeared to get it well. Particularly 5 year old Jasper.
By an hour later Kashi, Bodie and Jasper were all playing together.   Throughout the day all the boys, accept Kashi, were very involved with gun play, shooting, super heroes and war like games.  There of course is much to be said about that yet what I wish to say here is that developementally children at this age are learning how to have two feelings.  For example: I hate you yet your my friend. They still can't do both.  That is why you will hear them say when they can't get their way "That's not fair!" It is not fair because they can only see the world from their own lens.  They are not able to see your feelings and their own.  This takes much work and studies say that it is related to the pre-frontal cortex development that doesn't really kick in until 5 or 6 years of age.
There are things we can do to help them here so just to say, they are learning and we get to give them opportunities to feel this inner world.  This is a described as a Developmental way of dealing with things as opposed to a Behavorial way.
In between all of this, they were finding the perfect stick for their rattles and helping with wrapping them tightly with leather and imitation sinew for the final touches.   The days weather stayed easeful and predominantly calm though the groups weather was more like a blustery day.
Thursday
Still a Crescent Waxing Moon: Alexi is the Weather Watcher and he has been finding just the right felt pieces to show what our Moon looks like in the sky.
Laurie is still gone as she is tending to her Mothers passing.  She has sent her love and warmth to everyone.  Lucy was still on Holiday.
We finished our story about the Little Country Bunny and even though Jasper knew the whole story he was still willing to sit and listen and appeared wrapped up in it anyway.   Prior to reading and singing I brought up Tuesdays struggles and led the conversation towards seeing if anyone here would like to be name called or treated poorly.  Unanimously they all said no though Giulio said he didn't mind at times.  Then they all took their time looking at each other, as friends, and making an agreement to treat each other with loving kindness.  They put their hands in the middle of the circle together and together gave a strong YES to this choice that they just made and agreed to.  The rest of the day had very little struggles in this department and their was far greater ease around each other and taking care of ones feelings.
They were delighted to go to Hidden Villa and Alexi was in 7th heaven with the thought of seeing the chickens again and holding them.    When we got their it seemed best to eat straight away right at the little natural play ground that Hidden Villa created and the children love.  So their they played and ate.  Now I remember exactly why i directed them to this.  Bodie made a clear request that we NOT eat with the chickens because he does not like the way the chickens come and peck at his food. Last time we made a backpack barrier for him but he really did not want to eat there today.  So, we ate at this playground.
After they ate I had a thought to take them to a place they have never been before, the water falls but, by the time we got ready to go there really would not have been enough time so, off to the chickens we went.   As we walked some got to see young lambs, not myself.  Audrey reported how lovely and tender they were.  While she and some were doing that, the rest of us came upon a beautiful black cat that lives there.  We played with this treasure  petting it and trying to hold it.  It is a very accommodating cat!
When we got to the chickens Alexi and Anjalie went for it and spent the rest of our time their catching or trying to catch the Chickens.  Anjalie has really got a gift for this!  And Alexi is close behind.  Gracy got one as well or rather the information on this was a bit conflicting.  Either Anjalie caught it and gave it to her or she actually caught it herself. What I do know is that she was sitting down holding this chicken in CHICKEN HEAVEN!!!!!!   Bodie enjoyed himself greatly with petting them.  They were truly so very, very soft.   There were young chicks there as well and we all enjoyed watching them.  There were only two LARGE pigs and the stench was memorable!    It came to be time to wander on so we spent the rest of the day at the creek.  There they just had a grand time playing in the water.   We also earlier ate Sour grass and Miners lettuce with joy.
The difference from Tues. to Thurs. was quite the difference and not just because it was a different day but because there really seemed to be recognition and change.  Each child in their own stage of growth and development too.   So visible.  Giulio just seemed to have taken several maturity steps in growth and Kashi tended to his nose with great skill. Both I know had wonderful support from their Mom's to support and encourage these maturing selves.
Another week of great changes in the inner landscape of your delightful, healthy and beautiful children.
https://tendertracks.com/wp-content/uploads/2016/03/logotype-ladybug-transparent2.png
0
0
Wendolyn
https://tendertracks.com/wp-content/uploads/2016/03/logotype-ladybug-transparent2.png
Wendolyn
2012-03-31 09:03:16
2016-06-22 22:14:26
Palo Alto Tender Tracks Day 47 & Day 48 March 26 & 28, 2012